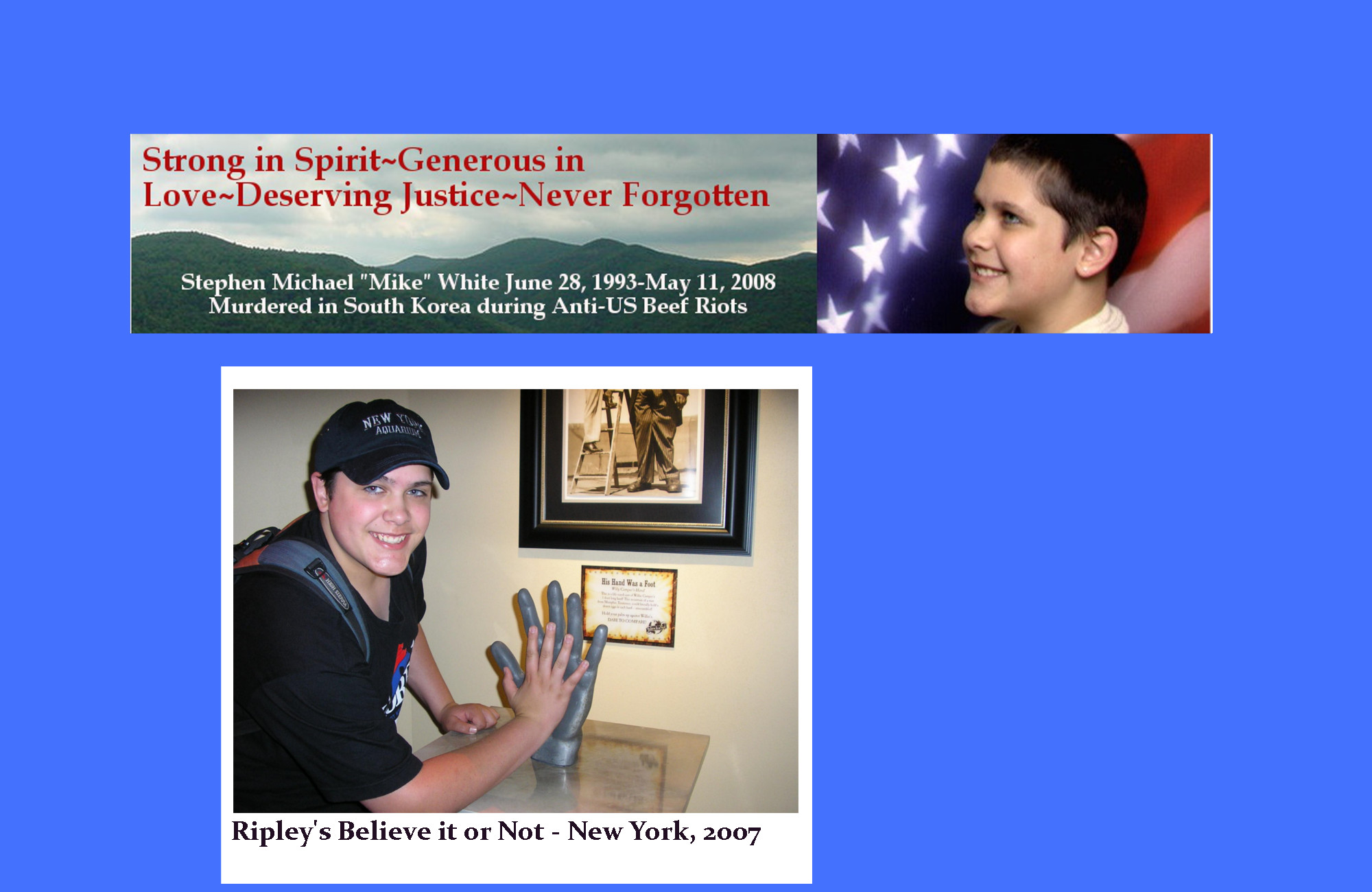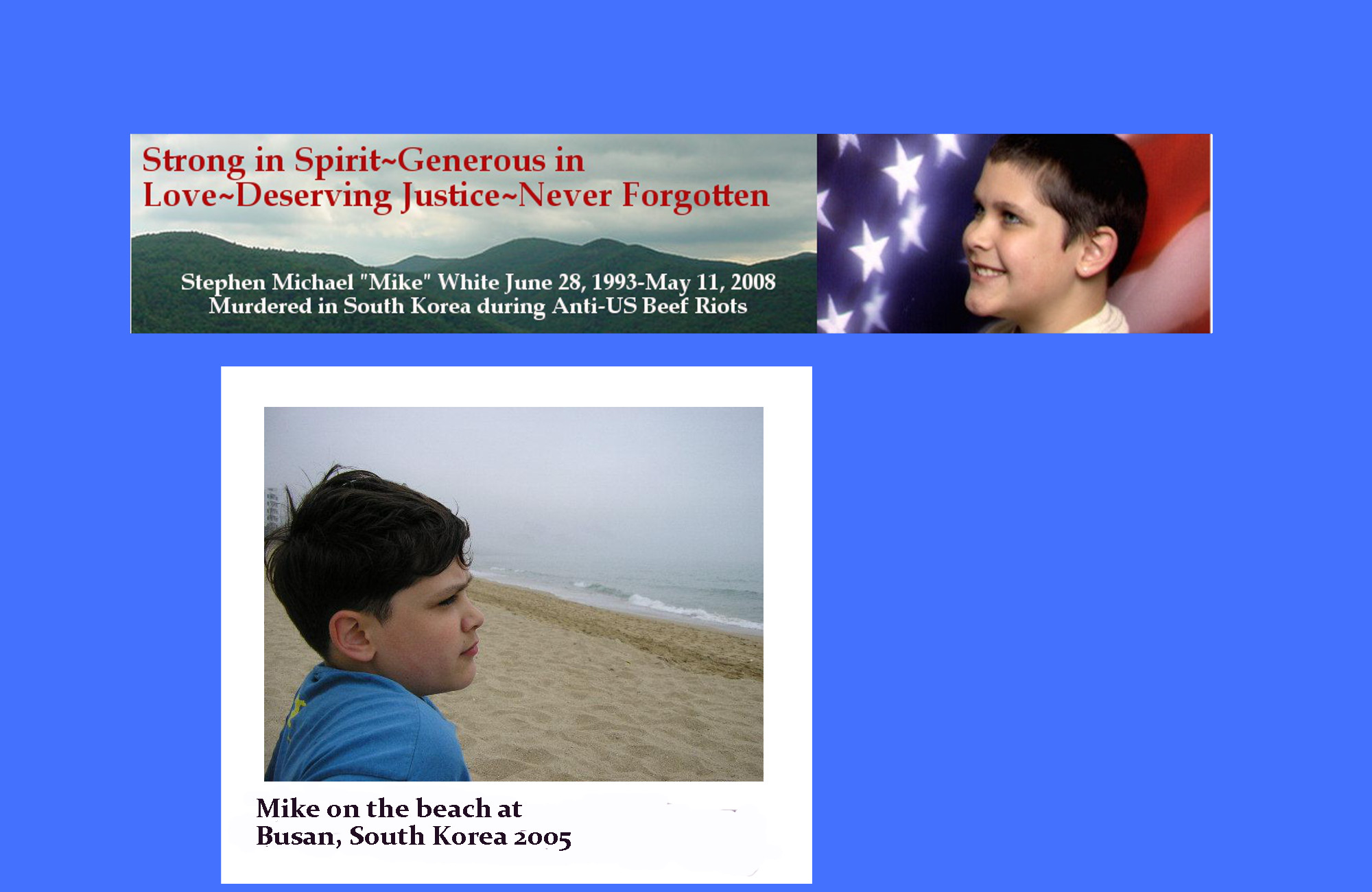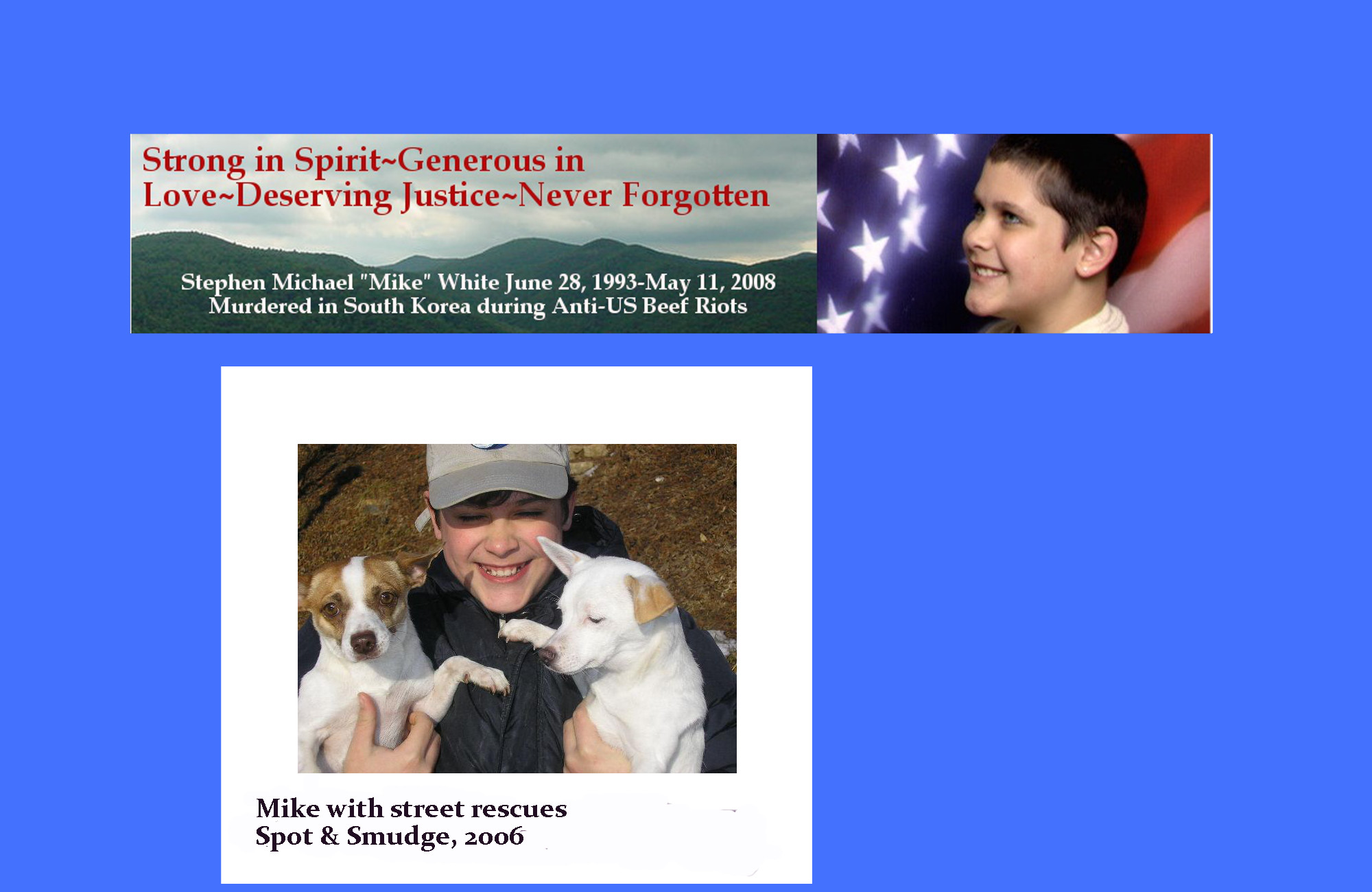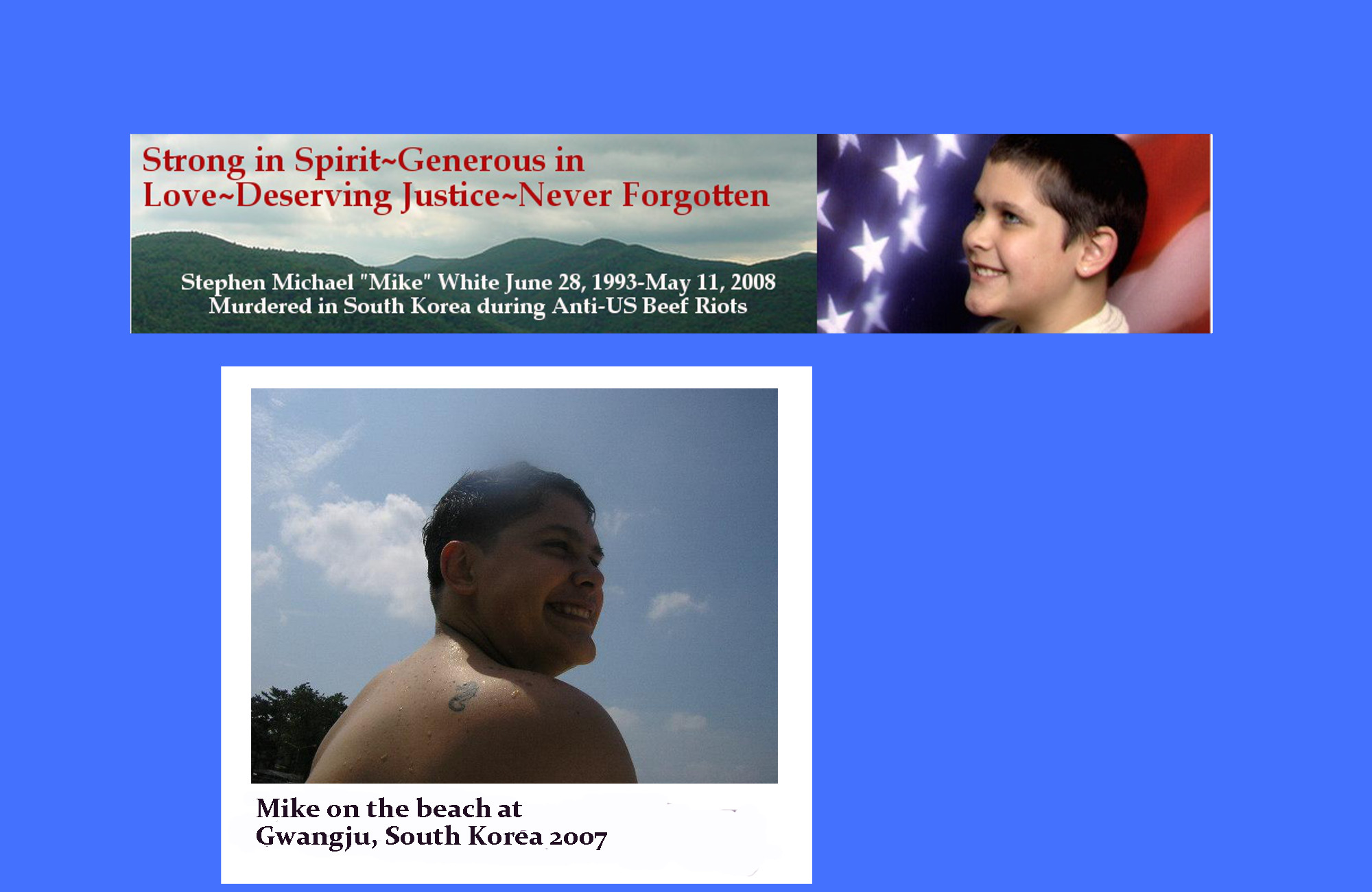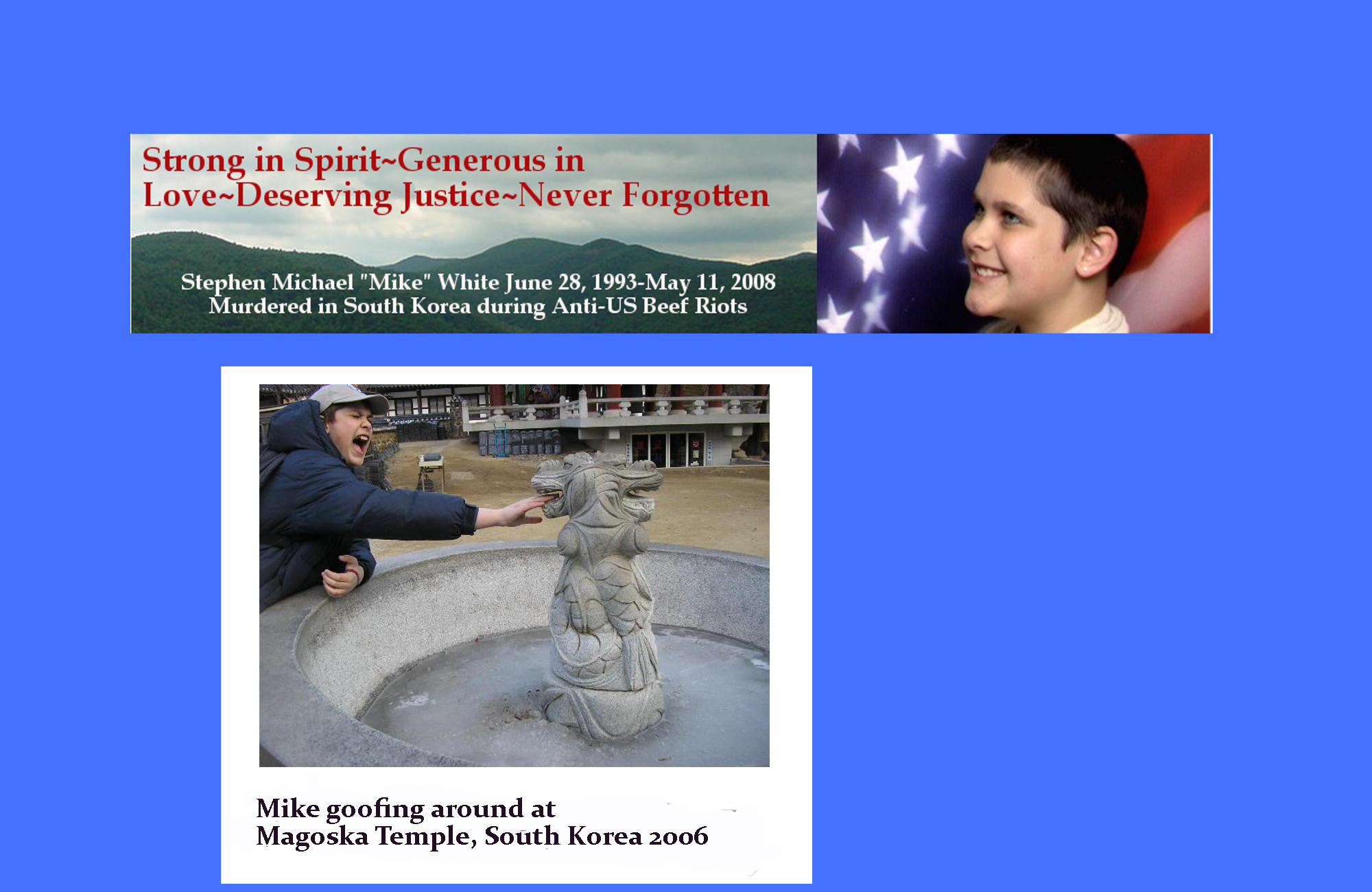 Mighty Mike, June 28, 1993 - May 11, 2008
Born in Clyde North Carolina, Stephen Michael White lived in the Appalachian Mountains of NC. Having grown up near the Great Smokey Mountain Parkway, this young Mountaineer hiked Linville Gorge as often as he fished in Sunburst. When he camped in Shenandoah Valley, deer would come to camp. When he found a starling out of it's nest too soon, he nursed her back to health. When he left for South Korea in 2004, he took Tweety, a tamed Starling, to the Nature Preserve. He wanted to be sure she would be well cared for. She had imprinted with Mike, therefore could not be introduced back into the wild right off.
He attended Boone Montasorri Pre-School and Boone Elementary, before being homeschooled from 2nd grade to 9th grade. At Hoseo University, he was a member of the English Drama Club, and had a bit part in the play, "Sorry, Wrong Number". He attended Chungju University, where he earned a certificate in Korean Language.
Prior to moving to South Korea, he went to Betsy Jeff Penn State 4H camp each summer for weeks at a time. A regular traveler to Washington DC, he attended the Van Gough exhibit at the National Museum of Art, sparking a life long interest in expressive art and becoming an advid fan of Van Gough. He played the guitar eloquently - other than his mother teaching him to read music, he was self taught. He took swimming, tennis, pottery, art, and sculpting lessons at Appalachian State Universities Summer Enrichment Programs. He loved hiking, fishing, skiing, caving, swimming, and his dogs.
Read the Prequel to the Sparkling Promises Series, Book of Mike

FREE for a Limited Time


Download NOW
from
LuLu Marketplace
FREE

ISBN 978-1-312-99661-8
Sparkling Promises, Book of Mike: American Teen
Coming of Age In South Korea
e-book 2015
Orread it on your
iPhone, iPad, iPod touch & more


Also available on
iTunes & iBookstore
FREE
World Traveler
Before starting his adventure to South Korea, Mike poured over every book he could find about his new home. Scouring libraries in 3 counties, From Watagua to Ashe, Mike read everything he could find about Korean Culture. Learning that token gifts were given when a new person arrives in a neighborhood (in red bag) Mike went shopping for "American Gifts" he could give his new friends in Korea, complete with small red bags. Mike's girlfriend - if there is such at thing at his age - was Korean-American. Mike was eager to embrace his sweeties culture.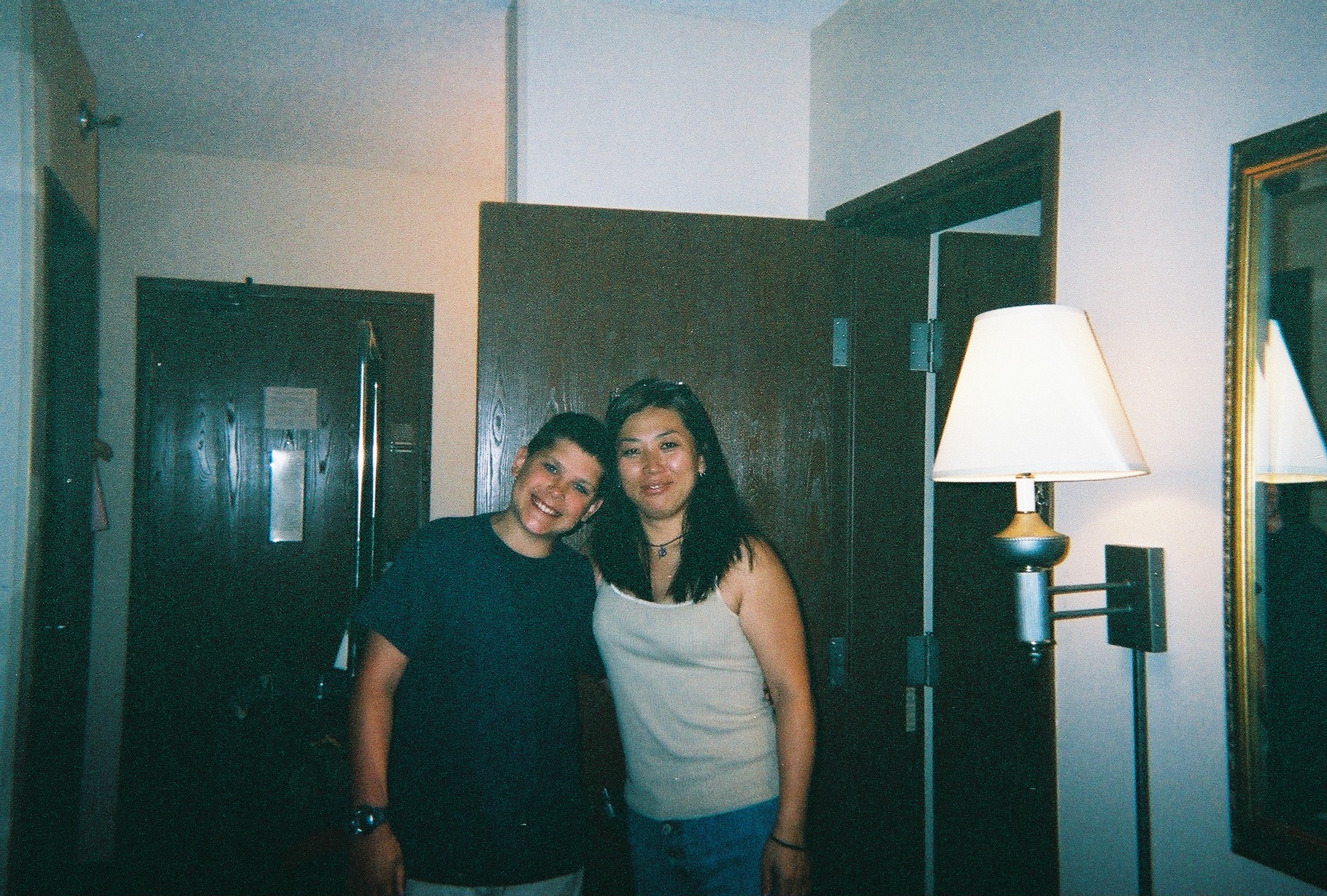 He was perceptive enough from his readings to realize winning approval of Karey's mother would be his key. In the end, she was an albratross's stone instead.
Mike applied that same enthusasim when he prepared to travel to Japan, China and Thailand. Researching the Do's and Don'ts of our exotic destinations was old hat for Mike, who at ten, was already a globe trotter. He would make index cards with common polite phrases, writen phonically, in English & the local language. He had fun making the cards and reading maps, earnst to explore the world.


Download NOW
from
LuLu Marketplace
FREE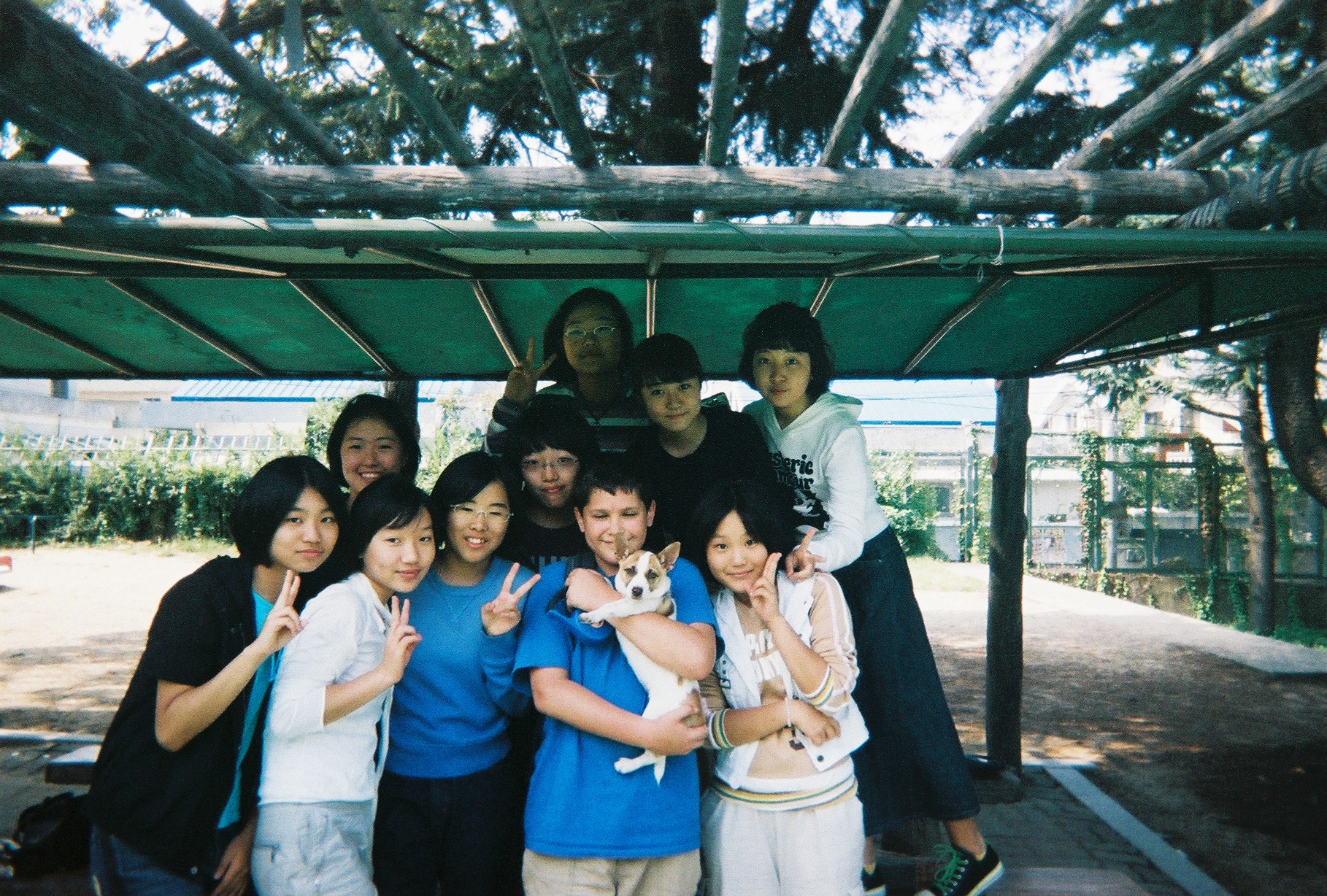 Mike with a his Daegu Fan Club, 2004 October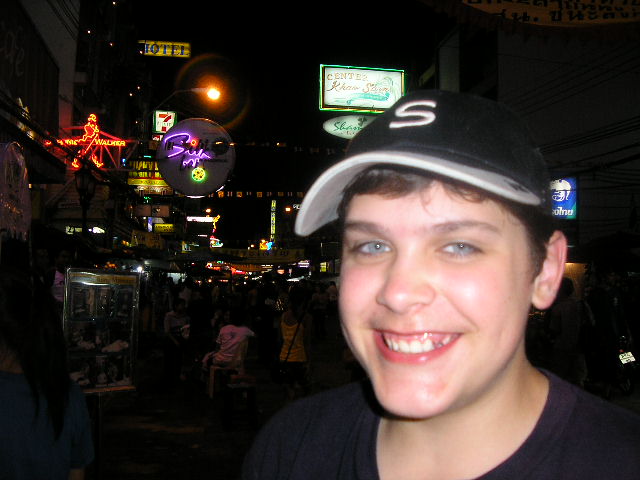 For Mike's 13th Birthday, we toured Bangkok & Phuket, 2006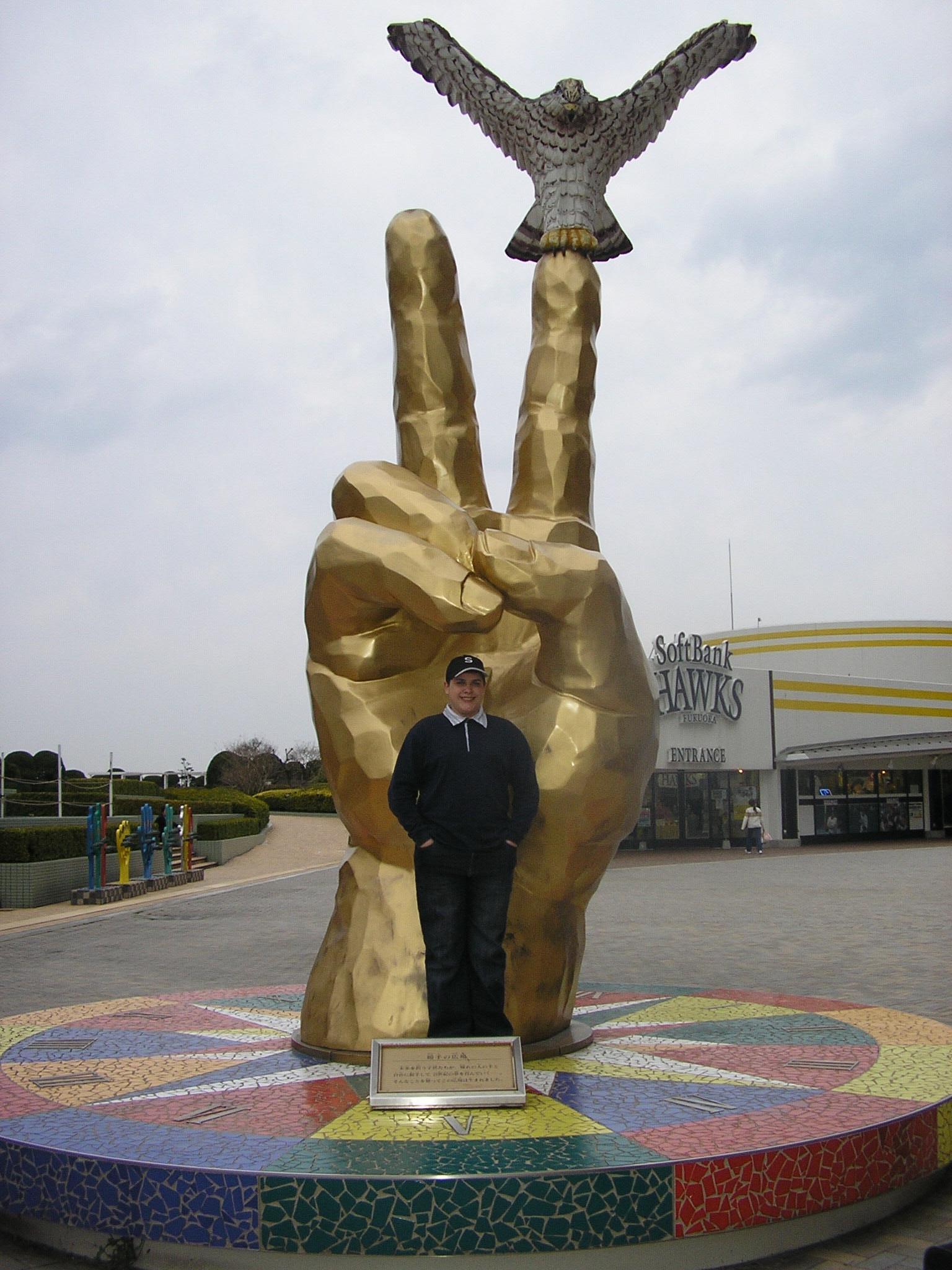 Mike at Yahoo's Sea Hawks Dome in Fukuoka Japan 2006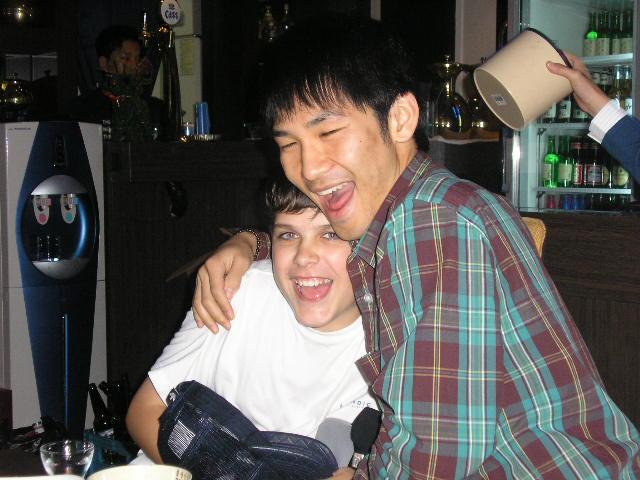 Mike with a friend from the English Drama Club, Hoseo University, 2005
Street/Boshentang Dog Advocate
Spot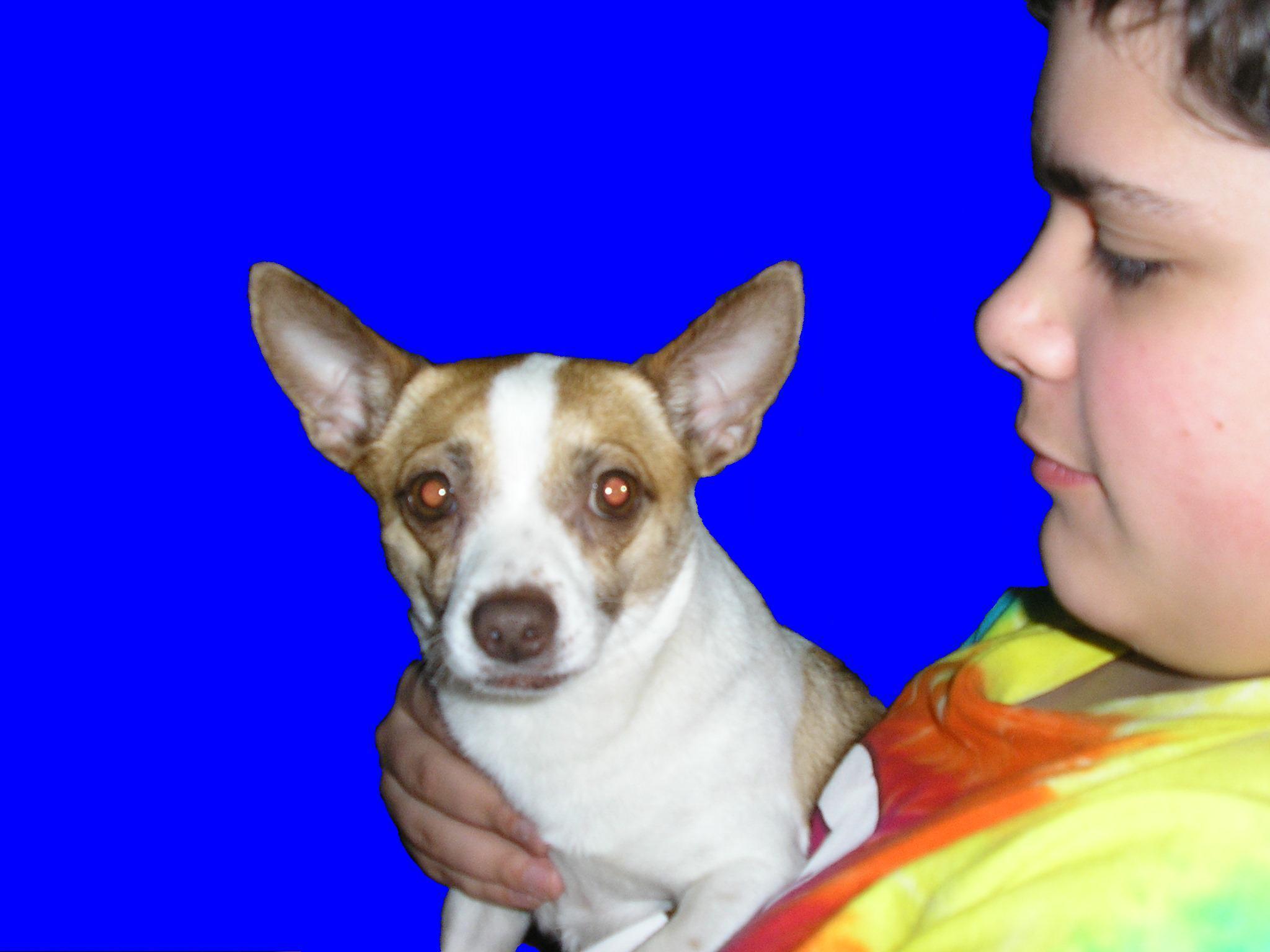 Mike's first street rescue, Spot was found one bright morning as we were walking along exploring the neighborhood. A man on a bike was kicking at a dog as he was trying to leave. It was clear the dog belonged to the man & he was dumping it off. Poor thing, she followed him down into the street, we held our breathes as traffic zoomed and the man continued to cycle. Mike leaped into action - he stepped out into traffic - holding up a hand & walking toward the frightend mutt. She cowered under a car, but at least was safely out of traffic's way. Mike cooed to her until she wimpered crawled over to him. I knew when he looked up at me, he had found his longed for puppy. She was about 7 months old. She was a bit undernourished, but with a few vet visits & some great food, she was in tip top shape in no time.
Smudge
ChaoTaco
Murdered 'cuz he's American
Ignored by Clinton